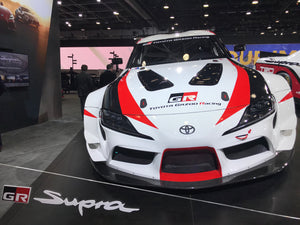 The New Gazoo Racing Toyota Supra [MKV / A90]
So I've been just like you guys, trying to keep up on "the worst kept secret in the industry" as Akio Toyoda put it in the NAIAS reveal.  But, its here.  The new Toyota Supra MKV / A90 bearing the Gazoo Racing badge (which pays homage to the LeMans winning TS050) is a reality.
Initial responses have been... mixed.  There is a TON of hate for this vehicle being a rebadged BMW Z4 (Z5?) since it's drivetrain, seemingly chassis and even some interior are BMW sourced.  Not to mention, it will be assembled in Graz, Austria.  But it seems to have it where it counts; looks and performance. 
With a 0-60 of 4.1seconds coming from a turbo BMW B58 motor there will be PLENTY of room for upgrades, and really, 4.1 0-60 isn't exactly horrible. 
Here's the full spec sheet for those interested:
Engine: 3.0-liter twin-scroll turbo six
HP / Torque: 335 hp and 365 lb-ft of torque
Wheelbase: 97.2 in.
Overall Length: 172.5 in.
Overall Width: 73.0 in.
Overall Height: 50.9 in.
Track Width Front: 62.8 in.
Track Width Rear: 62.6 in.
Curb Weight: 3,397 lbs.
0-60 mph: 4.1 seconds
Currently, these B58 motors are making upwards of 435HP / 457TQ with a reflash and over 650HP with upgraded turbo, flash, intake, exhaust and E85.  THAT now should silence some critics, right?
Anyhow, here are some pics I managed to snap:
Toyota Supra MKV / A90 - Gazoo Racing
Toyota Supra MKV / A90 - Launch Edition
To check out the NAIAS reveal yourself, check out:
https://youtu.be/-L_H497PVHs?t=561
---