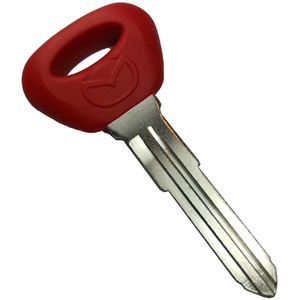 The Top 10 Coolest, Best and Most Well Designed JDM Car Keys...
What are the COOLEST ignition keys ever produced for your favorite Japanese cars? Some might be obvious, but others not so much.
Now, I want to preface this rambling with the following: I'm excluding cars with hand held computers or USB drives they call "keys" (or "fobs" if you are snooty). I'm talking about keys - keys, keys - cut from exotic metals, designed to feel good in your hand and ignite analog passion during the flick of the wrist we car guys call "the crank".
Honda / Acura Integra Type-R DC2
Pretty standard issue stuff as far as keys go. But the big 'Type-R' logo is a nice touch and lets you know this isn't your average Honda key.
Honda S2000 AP1
Another nice key from Honda paying homage to the S2000 and integrating the "five dots" found throughout the S2000 interior. Oddly enough, this key goes into the ignition tumbler, but you still have a push button start!
Honda / Acura NSX NA1
THIS is where things start getting fun. The first generation NSX had a super cool key made out of a nickel-copper alloy called 'Monel". Super heavy in the hand, but an amazing design makes this a top contender.
Mazda RX-7 FD3S Spirit-R
The Spirit-R RX-7 was such a great concept. After the original production of the FD3S ended - it rose from the ashes in one last production run of 1500 vehicles with a tuner enchanting catalog of limited parts. Carbon fiber Recaro seats, limited edition interior trim, bigger brakes, special floor mats and passenger footrest - it was really the ultimate send off.  These vehicles ALSO got a special red key from Mazda to compliment the host of special parts the car received.
Nissan Fairlady / 300ZX Z32 Twin Turbo
Arguably the originator of "cool keys". The Nissan 300ZX TT got one of the coolest factory key every produced, period. Cut from a solid piece of titanium and engraved with '300ZX' this key just feel so right in your hand.  When you laid your keys on the table and people saw this... they knew.
Nissan Skyline GT-R R32 / R33
Nissan continued it's tradition of cool keys and went one step further with the Nissan Skyline GT-R key. Not only is it made from heavy weight material and polished to a mirror finish - it is adorned with a jewel "R" - just to let people know THIS is their flagship.  Their literal crowning jewel.
Subaru STI
Modeled after what seems to be a battery isolator switch, this key tells you it has ONE job - ignition! The top is cut from titanium, engraved with "STi" and comes with a signature Subaru World Rally Blue shell. This key fits early model Subarus and is a must if you can rock it.
Royal Clover Pole Position
I'm sneaking a couple "honorable mentions" in here with Royal Clover. If you don't know, Royal Clover is Japans oldest and most trusted key manufacturer. I always imagine the Keymaker from the Matrix running the show over there. Anyhow, the Pole Position I think is the BEST key to come out of their line up. Such a great minimalist design with a nod to weight reduction.
Royal Clover Racing
One more Royal Clover key to round out our list. The Royal Clover Racing key is a striking design that is suitable to a number of cars. Very cool feeling in the hand. Very cool look on a key ring that's sure to spark some questions.
Ok, that's all I could come up with.  Do YOU know of a cool key that should have made our list? What do you think is the coolest key here? Stay tuned to our Blog, IG and Facebook... maybe WE will have a contender soon!
---