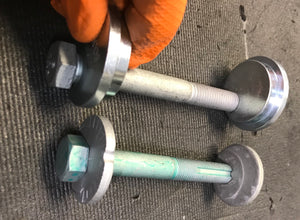 Mazda RX-7 [FD3S] Stronger Camber Bolts?
Always looking for new products to produce, we were recently contacted by a professional drifter we work with (Hi @thisisthewolf) to take on a challenge he's been having with the alignment on his Mazda RX-7 [FD3S]. 
The issue is, from the factory the Mazda RX-7 [FD3S] is equipped with a total of six adjustable camber bolts (four up front, two in the rear).  For most cars, these do the trick.  But for cars that see more aggressive driving, such as auto cross, road race and of course, drifting - the threads on the bolt/nut stretch and the washers wear out so that you can't set or retain an accurate alignment.  Not to mention, the OEM camber bolts are NOT cheap.
So to get this project rolling we decided to reach out to SPC.  If you don't know who SPC is, they are THE alignment company. SPC manufactures a complete range of alignment solutions from camber bolts to full on replacement arms for virtually every vehicle on the road.

We took measurements of all the OEM hardware, sent it to SPC and they in turn found what they thought would be a good fit for the FD. The goal was to use something off-the-shelf, rather than creating something brand new.
Everything they sent is beefy. Grade 10.9 Bolts, Grade 12 Nuts, and the adjustable washers were pretty stout in their own right. Sizing on everything is pretty close. These might be a tad long for two of the bolts, but those can be machined down. I also am not a huge fan of the different finishes, but we can always anodize.  The only other thing I'm not stoked about is there are no indicators on the washer, but we can machine those on.
So that's where we're at.  Stay tuned for progress and a possible Group Buy if we have enough traction.
---