---
---
Going down the list of parts to recreate, we hit another perennial favorite that is never available when you need it - the TurboJeff Battery Tray!

TurboJeff was gracious enough to loan his original schematics so we can put this piece back into production.

If you aren't familiar with the TurboJeff Battery Tray, it is the original tray designed for OEM location mounting of a Group 51r battery. There is NO other battery that offers the same cranking power, reliability and availability as a Group 51r AGM - and securing it in an OEM location is just the icing on the cake.
The TurboJeff 51R Battery Tray:
Laser cut 304 Stainless
Mounts a Group 51R Battery in the OEM location using pre-exisiting mounting points on the body
Keeps the battery where it should be - in the OEM location
Includes base, tie down, J-hooks and hardware
Provides a clean, OEM like solution for RX-7 owners
Powder coated flat black for OEM look
***THE PROVIDED J-HOOKS WILL REQUIRE TRIMMING FOR YOUR SPECIFIC REQUIREMENTS. PLEASE DOUBLE AND TRIPLE CHECK HOOD CLEARANCE BEFORE CLOSING YOUR HOOD.***
---
Customer Reviews
AD
04/20/2020
Arnold D.
United States
51R battery tray
The tray itself is well built and has a nice OEM looking finish to it. It leaves a little bit of room in the front and back of the battery. Slid the battery all the way forward and put a rubber strip in the gap behind it. No big deal. Maybe its to deal with different sized 51R brands idk. The right and left sides hugged the battery perfectly. You reuse your told tray mounting hardware but get new tie down hooks and top bracket that runs across the battery to hold it down. Very happy with the tray and would get one again if i ever bought another FD.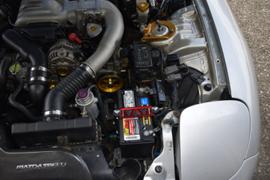 02/21/2020
Jarren C.
United States
Excellent Product, Fast Shipping & Sweet Extra's
The Turbo Jeff's Battery Tray is exactly what I needed to replace the stock battery box which was deteriorating and not worth replacing. This was a easy installation which took 10 minutes and the powder coat finish is excellent. First purchase through GA and it was easy to navigate, fast shipping and great product. They even threw in some really dope stickers and a little RX7 FD hot wheels toy. Talk about above and beyond. Only problem is I wish they had more products to offer for my car so I can make more purchases through GA. Thanks guys!
01/29/2020
Tanner P.
United States
Outstanding aftermarket battery solution that utilizes the stock mounting location
Excellent product, huge thanks to Garage Alpha for bringing it back into production! As mentioned in another review, the included universal J-hooks were too long for this application; however, it is very easy to remedy with a Dremel or hacksaw. Additionally, the tray holes were slightly wider than the fastener locations on the chassis. The tray fit properly with no trimming, but there was some tension on the bolts during install. Not a huge issue, likely just a small tolerance deviation during manufacturing. Overall an outstanding product that provides functional and aesthetic improvement over the stock setup. Five stars, would absolutely recommend!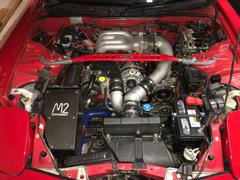 Thank Tanner! I'm going to update the description that the J-Hooks WILL require trimming. We went to a shorter J-Hook only to realize some 51r batteries are slightly taller (so much for standards, amirite? ). Soooo, it's back to the longer hooks with the caveat you need to trim them for your exact specifications. Thanks so much for the support!
WY
08/12/2019
Wendell Y.
United States
A great battery tray made even better by Garage Alpha
I purchased the "Garage Alpha x Turbojeff" battery tray after over a year of unsuccessfully trying to contact Turbojeff via forums. Turbojeff has long since moved on from making FD3S parts but I knew his battery trays occasionally made limited run comebacks. It seems the final solution was to have Garage Alpha start producing the trays with Turbojeff's blessings. Overall fit and finish are just about perfect. It was a five minute process to remove my old battery and tray, and to install the new tray with an Optima 51R yellow top AGM battery. It's given me quite a bit of extra space for my M2 medium intercooler, where it was previously rubbing the OEM battery box. I also really like the satin black powder coating, which just looks cleaner than bare metal. It almost looks OEM. On my particular lot, the hooks for the battery tie down were a bit long. They still cleared the hood, but just barely. I trimmed mine down with a Dremel cutoff tool, but I also contacted Garage Alpha and they said they may make an adjustment and simply include shorter hooks for future kits. That being said, I don't know how tall my Optima battery is compared to other batteries that fit the 51 series footprint. Maybe other batteries are taller? I'm any event, I'm 100% happy with this product.
Great buy
Shipping to europe was very fast, great price and top service! I was very impressed with the quality of the work, with perfect welds and a nice powder coat finish!